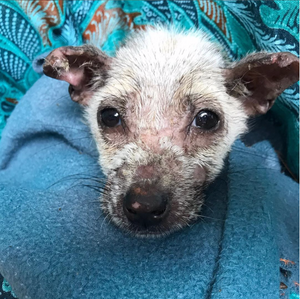 Animal Charity: Sadie's Story
Where do I even begin? I guess I could stay by saying if Sadie had an Instagram page she would have more followers than Kim K...I mean that's probably a bit of a stretch but you get the point. 
Let's just start from the beginning. Sadie was rescued by Mission Paws'ible in May this year. She was found outside a local school desperately trying to find food amongst the garbage to survive. As Prue (founder of Mission Paws'ible) approached her only for little Sadie to attempt to run away in fear of human touch. That's right she ATTEMPTED to run away, but because of how sick she was she couldn't even make it a few metres. 
Here's a quick video of her rescue: 
She had a lot of skin bacteria and fungal infections, plus a PCV of 12% but thankfully no blood parasite. She stayed at Sunset Vet for a while until she was stable enough to be taken into foster care. Luckily enough for Sadie she actually stayed with her rescuer Prue as she needed someone who was experienced. But between you and me Prue was definitely in love with her already. Hehe.
Here are a few snaps throughout her journey:
PROGRESS PICS!
AND NOW...DRUM ROLL PLEASE!
SADIE-LADY POSING FOR HER ADOPTION PHOTO:
 This little cheeky-gremlin warrior princess is ready to find her forever home...I mean look at that little tongue! 
 Animal Charity with purpose 
To keep up with Sadie & current/ongoing rescues be sure to follow these Instagrams @delilahwolfpack + @missionpawsible + @thebalidog
 THESE RESCUES WOULD NOT HAPPEN WITHOUT YOUR HELP. BELIEVE ME. IF YOU WALK DOWN THE STREETS IN BALI YOU WILL SEE ANIMALS IN SADIE'S CONDITION ALL THE TIME AND PEOPLE JUST WALK ON BY. OUR RESCUERS CANNOT DO ANYTHING WITHOUT FUNDING.
SADIE IS TRUELY A LUCKY ONE TO BE GIVEN A CHANCE.
PURCHASE ANYTHING DELILAH WOLF PACK & YOU WILL BE DONATING + REPPING THIS MOVEMENT:
DONATE DIRECTLY TO THE RESCUERS:
---